Photo via @TheCoupleGoals
While we generally don't recommend the mindset of "looking" for someone, because when you stop looking and focus instead on enjoying your life – that's when love finds you. However you still need to make sure you give that love an opportunity to actually find you, and for that to happen, you need to get out there and mingle. Whether you're ready to find your partner-in-crime or simply want to start dating, meeting someone in Montreal can be both an exciting and a daunting task. So how do we remove the daunting part and keep it exciting? Very simple: follow these guidelines…
Gym
Fitness is a thing, which means lots of attractive individuals can be found doing it (no, not just the crossfit clan or devout yogis). So just like with bars, pick a gym with a vibe you like, and go on the regular. Before you know it, you'll be catching the attention of an interesting someone, and they'll be catching yours. Sooner or later, you'll ask him to help you lift a super heavy weight (which you actually could have handled yourself), and he'll be so happy you did. Or you'll ask her to recommend a good class, and she'll invite you to join her. And if they fall in love with you all sweaty and out-of-breath, you know they're a keeper.
Lads, we're sure you've already figured out that yoga and spinning studios are good spots to find women. Go on the regular and you just may score yourself a conversation that starts it all. And ladies, why not try a circuit-training or boxing class? Who knows, you may actually love it…
Our favourite fitness spots: Enso Yoga, Club Sportif MAA, Corexcellence, Klub Athletik Griffintown, B.Cycle Spin Studio.
Fundraiser Galas
One of our favourite things about this city are all the galas (Ladies, all the reasons to show off those online shopping skills). Aside from supporting a good cause (yes, you can party and help your community at the same time), fundraiser galas are the best spots to network, hands down. Whether you'll meet professionals that may be the 🔑 to your next career move, new friends, or your S.O. him/herself, between all those new encounters someone might introduce you to the one you've been patiently waiting for.
Our favourite galas: McCord Museum Sugar Ball, Kids for Kids, L'Affaire Papillon, Printemps du MAC, Les Jeunes Gouverneurs for Les Grands Ballets Canadiens.
Volunteering
Lads, the spotlight's on you here. Volunteer at the SPCA or for a cause she's passionate about, and you've already won a spot in her heart. Add some charm and good convo to the mix, and you've sealed the deal. And if you don't meet someone there, you're likely to melt the heart of whoever you do meet in the future with your charitable passions.  
Some spots we love to volunteer at: SPCA, any hospital, teach a language at La Maison de l'Amitié, YMCA
Spas
Yes, spas. Gentlemen, if you chose the right one, you're likely to find squads of women frequenting for some quality time with their girls – at least some, if not all of which are likely to be single. Grab your boys, and you may find yourselves walking out with numbers. We've personally witnessed groups of women meeting and walking out of Bota Bota with groups of men.
Our favourite spa's to meet people: Bota Bota, Scandinave Spa, SKYSPA
5a7s
Montreal's 5a7 scene isn't your average happy hour, grab-a-pint-after-work routine. The city's 5a7 vibe is truly incredible and oozing with young professionals. Every Thursday, 20-40 somethings from all over the city gather in a multitude of bars (and restaurants), in what has practically became a staple Montreal past-time.
Our advice? Grab your coworkers and go every thursday – you never know who they'll bring along. That guy in accounting that you never talk to? Maybe he has a cute friend. So if someone invites you to join, go. While of course we all know that a good portion of 5a7 goers don't exactly have serious relationships in mind, you never know who you'll meet – the right person is lingering there somewhere in the crowd. Try different spots until you find one with a vibe you like. The best part is it's so easy to meet people at these 5a7's. Whether it's just to network or scope out a catch, everyone generally enjoys the idea of meeting others – otherwise why be there?
Our favourite 5a7 spots: Hotel Nelligan Terrasse, The Coldroom, Hotel William Gray Terrasse, New City Gas Terrasse, Furco
Say Yes to Everything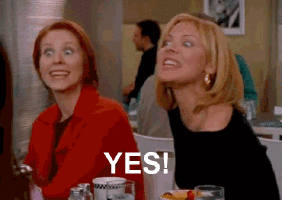 The best way to meet people without re-downloading tinder (lets face it, you promised yourself you'd delete it for good 2 dates ago), is to say yes to every invitation you get. If you get out of your comfort zone and spend time with people who aren't in your group of close friends, you never know who you'll meet through them. Your sister invited you to an art-show with her friends? Go. Your best-mate invited you to play basketball with some buddies you've never met? Go. Your coworker invited you to her potluck dinner? Show up with wine. You get the gist.
Stay tuned for part 2 up next week! Happy hunting…