It's been close to ten years since the last episode of Sex and the City aired on TV, so why is it that we are continuously glued to the TV when reruns or marathons are on? I'll tell you why, it's because this show is a f*cking masterpiece. When I was younger and stumbled upon old episodes playing, I immediately loved it because of the characters sense of humor and also because any girl with an interest in fashion can't help but love all the looks and especially the enormous shoe collection each character has!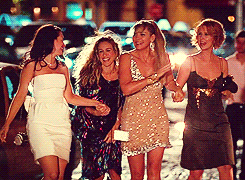 However, as I got older and began to experience my own version of relationships, heartache and finding my "soulmates" of girlfriends, this show grew on me in a whole other level. Just recently I watched all of the season from start to end so I could piece together how every relationship and characters story unfolded. One of the most amazing things about this show is how unique each character is and how on some level we can each identify with one of the four women. Sex and the City talks about issues relating to sex, boyfriends, the life of a single girl and does it in a way that builds women up and makes them believe they should be confident and sexy. Each episode addresses issue that we all go through but are either way to shy or embarrassed to talk about! But while watching we laugh because we experience the "I've been there moment" and feel relief that we're not alone! 
Sex and the City is by far one of my all time favorite series and I think that the older I get the more I'll find pieces of it that I identify with! From the beauty, fashion, pain, smiles, tears and laughter, this show establishes the framework of amazing friendships and the image of the empowered, beautiful and sexy gal! Here's a list of some of our favorite moments! 
–
 –
 –
 –
 –
 –
 –
Written by Emilie Berbrier